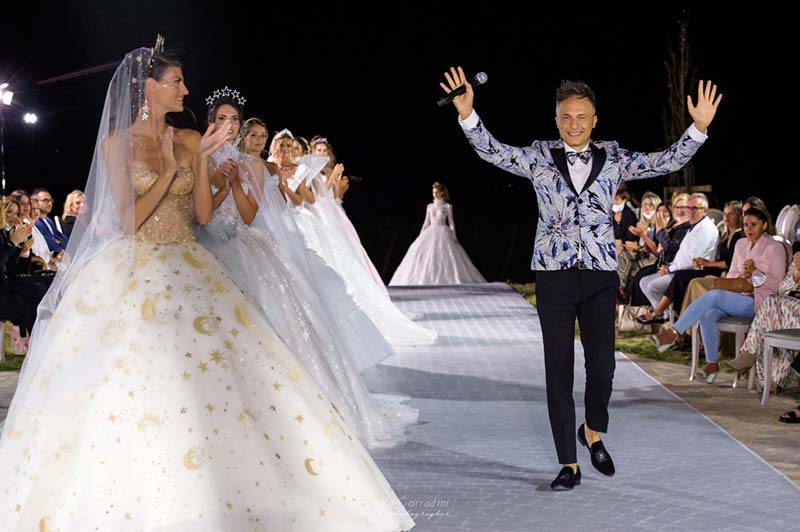 350 guests experienced the evocative tale of eternal love between the sun and the moon
Legend has it that the sun and the moon have always been in love but that they could never be together as the moon rises at sunset and the sun at dawn. Thus God in his infinite goodness created the eclipse as proof that impossible love does not exist.
One of the most beautiful love stories: the one between the sun and the moon was told on Sunday 6 September, at the Officina del Sole in Montegiorgio, at the highest point where you can touch the sky with your finger, at sunset, in the moment of the transition from day to night, in the instant in which the sun touched the moon in search of a kiss.
A unique show of its kind is the presentation show of the new 2021 bride, groom and ceremony collections by Emiliano Bengasi. The 2021 collection was presented in world premiere precisely because it was not possible to present it, as usual, in April during the fashion week, due to the lockdown. 350 carefully selected guests attended an evocative and exciting event in the viewpoint of the Officina del Sole presented by Jessica Tidei.
"A message of hope - explains the stylist Emiliano Bengasi - even more relevant in this period where, due to the coronavirus, many spouses have had to postpone the wedding or have had to remain separated each in their own cities due to the lockdown. In the end, however - concludes Emiliano Bengasi - the sun and the moon embrace, and even if their bond will only last a few moments, it will be enough for their love to continue to grow at least until they can be together again ... once again ... " It is from this legend that the new collection by Emiliano Bengasi draws inspiration from where princesses from another galaxy come to life with dresses created by the glitter of the stars. The large volumes and sensual sirens that distinguish the designer's creative flair are re-proposed in a whole new interpretation that offers an alternative, innovative bride that goes towards the future. There is no shortage of precious embroideries with Swarovsky crystals, customized laces created ad hoc to make the brand's clothes even more unique. Gold, silver and white are the nuances that characterize the new collection even if there are touches of blue and blue. The following collaborated in the creation of the Fashion show: CNA, Ferracuti Shoes, Parrucchieria Joicos, Graziana Fasino Make up Artist, The bad brother's Saxophone quartet, Crevida Wedding Film, Leo Art Photo.