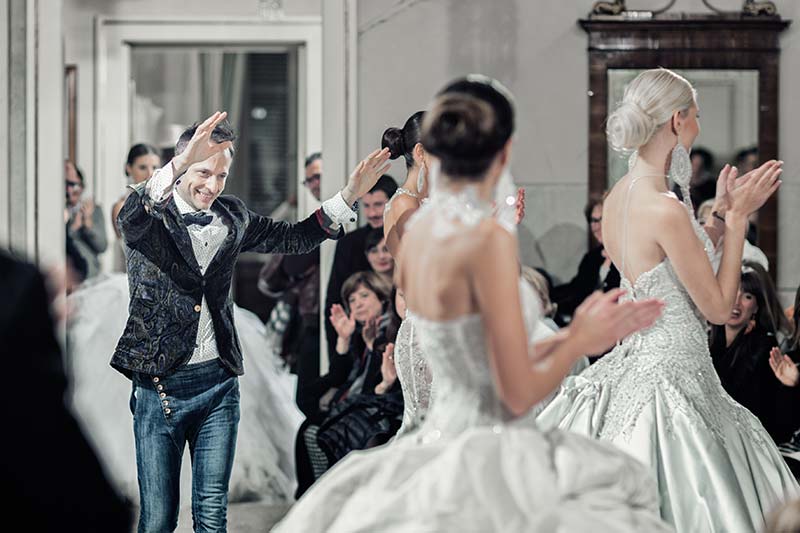 Emiliano Bengasi's atelier is the best in Marche region and the one that wins the 2020 edition of the wedding awards at matrimonio.com, the prestigious award assigned to the best in the industry throughout Italy thanks to the reviews of the spouses who have used the service.
In a difficult year for weddings, Emiliano for Dina Bengasi Atelier gets the Wedding Award from Matrimonio.com, the most prestigious award in the sector. Matrimonio.com celebrates the 7th edition of the prestigious Wedding Awards, in which the over 60,000 companies registered on the portal participate. This edition is particularly important as it represents a great support for companies in one of the most difficult seasons for the wedding sector due to the health emergency for COVID-19. What brings value to the Wedding Awards is the method of assignment, being the only recognition given to companies thanks to the reviews written by married couples. This award recognizes Emiliano Bengasi as the best atelier in the Marche region recommended by couples who got married in 2019.
Furthermore, the 2020 edition will go down in history because it implies the recognition of thousands of professionals who have had to demonstrate their love for weddings and the commitment that goes beyond the celebration of a wedding. They have shown that they are able to adapt to sudden date changes, support couples, deal with months of inactivity and manage their staff in times of crisis. Currently, these awards are based on over 7 million reviews of couples registered on the portal globally.
The Wedding Awards are given to 5% of the companies with the highest number of positive reviews in all categories among more than 60,000 companies, also taking into account the quality and professionalism of the services offered. The protagonist is given to the spouses who, with their reviews written after having used the services for their wedding, are the ones who decree the winners. Precisely for this reason, this award has become a benchmark in the sector and a guarantee certificate for future married couples.
"It is a source of great satisfaction for me - said the stylist Emiliano Bengasi - that my atelier has been recognized as the best in the Marche region and the fact that this award is recognized by the married couples who have served us. makes you even more proud. We work with passion, dedication and a sense of responsibility because we want everything in one of the most important days of a person's life to be flawless and perfect ".